How much does it Cost to Develop a Video Streaming Mobile App Like Netflix?
The introduction of on-demand video streaming apps has almost led to the extinction of traditional television sets. Viewers can not only choose the kind of content they want to view, but also choose from a huge variety of categories like web series, TV series, movies, news, sports, video games, personal content, cartoons, educational content, documentaries, and so much more! The number of consumers turning towards video streaming platforms is on the rise simply because traditional TV does not offer as much variety as video streaming apps. With a TV, one has to watch the movies and shows only aired by the cable provider, whereas, on a video streaming app, you can choose from a wide range of content in different genres and watch them whenever you want!
A video streaming app with intuitive UI, great functionality, robust video player integration, adaptive bitrate streaming and multi-screen compatibility is sure to be a hit among your target audience. It is no wonder that the popularity of apps like Netflix, Disney+, Amazon Prime are on the rise! More so, thanks to the pandemic, where everyone is stuck indoors and eagerly looking for some form of entertainment.
Take a look at some interesting statistics: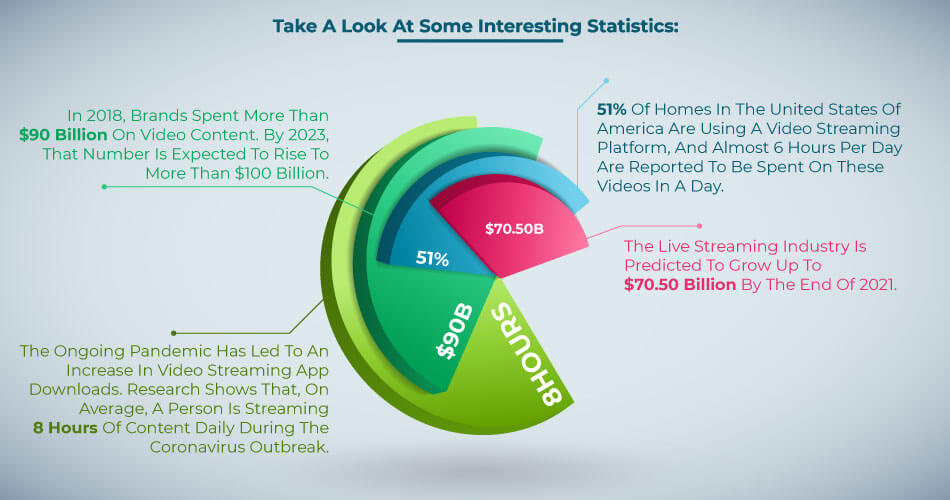 The live streaming industry is predicted to grow up to $70.50 billion by the end of 2021. 

51% of homes in the United States of America are using a video streaming platform, and almost 6 hours per day are reported to be spent on these videos in a day.

In 2018, brands spent more than $90 billion on video content. By 2023, that number is expected to rise to more than $100 billion.

The ongoing pandemic has led to an increase in video streaming app downloads. Research shows that, on average, a person is streaming 8 hours of content daily during the coronavirus outbreak. 
We hope these statistics are enough to convince you that now is the perfect time to develop a video streaming app that will pioneer the generation of capital for your business. This article will guide you through the important factors to consider while developing such an app so that your business stands apart from the competition in the market.  Before we get started, let's take a look at the business model and revenue generated by one of the most popular video streaming apps in the world- Netflix.
Business Model
Netflix offers a wide range of genres to its subscribers to stream, anytime and anywhere. 

Netflix has successfully built its relationship with Smart TV companies like Sony and LG and gaming companies like PlayStation and X-Box. They have around 35+ partners globally.

Netflix has an effective subscription model and pricing strategy. Viewers can choose from three types of subscriptions plans, including

○ Basic Streaming: $8.99/month

○ Standard Streaming: $12.99/ month

○ Premium Streaming: $15.99/ month

The AI algorithm used in Netflix recommends shows that the user might prefer after studying the user's watching history. This has increased its popularity amongst the user base by manifolds,

Additionally, Netflix has a Domestic DVD segment, which helps it drive more revenue from monthly subscription fees for services consisting of DVD by mail.

Netflix advertises through online channels to gain more subscribers and traffic. 
Revenue
(Source )
Netflix is the world's seventh-largest company on the internet by revenue

This video streaming platform has over 180 million users from all over the world.

Netflix video streaming platform has nearly 183 million paid memberships from all over the globe.

In 2020, Netflix's profit for the first quarter was about $5.8 billion. 

This income is also inclusive of capital obtained through advertising- charging companies for placing them inside the video streaming app and the concept of "Freemium," where users have to pay to access some exclusive videos.
If your app plans to follow the business model of Netflix, you can be guaranteed that it will be a hit amongst your target audience. Let's now dive into the technical details of creating a video streaming app.
Key Features to be included in the Application
User Dashboard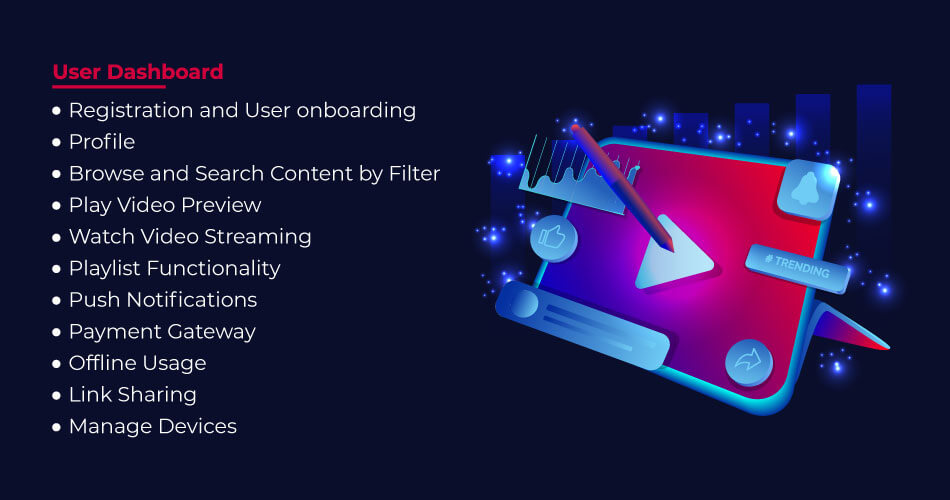 Registration and User onboarding: New users should have a quick and easy registration followed by easy login via their phone number, google account etc.

Profile: Update, add and remove details as needed.

Browse and Search Content by Filter: Browse as per the different genres, languages, type of content, artist, and many other filters. 

Play Video Preview: To get a gist of the video before playing the entire segment

Watch video streaming: Stream video of choice.

Playlist functionality: Create and add a video to a playlist. Playlists can be private or public.

Push Notifications: To inform users of ongoing offers, new content additions etc.

Payment Gateway: Allows users to make payment for any subscription model chosen.

Offline usage: Save video for offline use.

Link Sharing: Share the video link on social networks.

Manage devices: Add or remove devices in their active subscription
Admin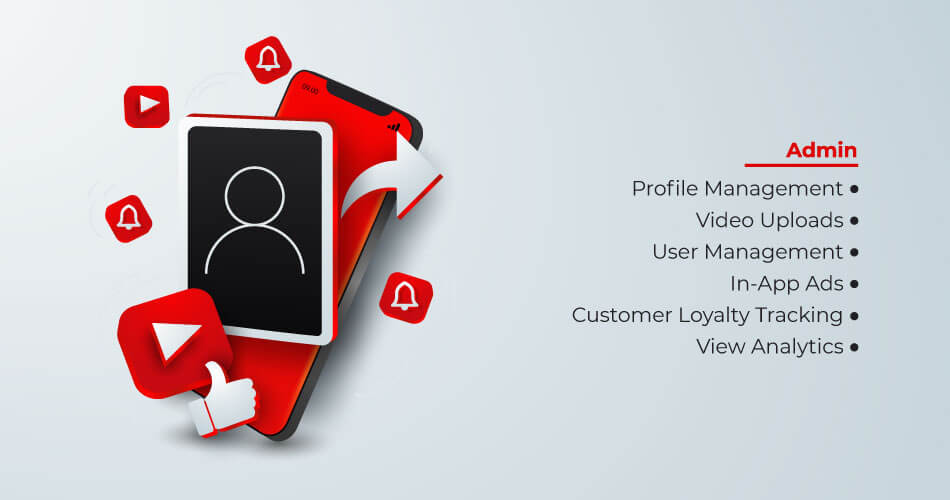 Profile management: Add, edit or delete profile details as and when needed

Video Uploads: Upload, publish and delete videos with their respective information.

User Management: Manage subscribers, memberships & users.

In-App Ads: Manage in-app advertising and promotions, timelines of occurrence, etc.

Customer Loyalty Tracking: Manage and update various loyalty plans.

View analytics: Easy access to statistics related to the number of users per month, most-watched shows, number of users lost per month, etc.
Advanced Features: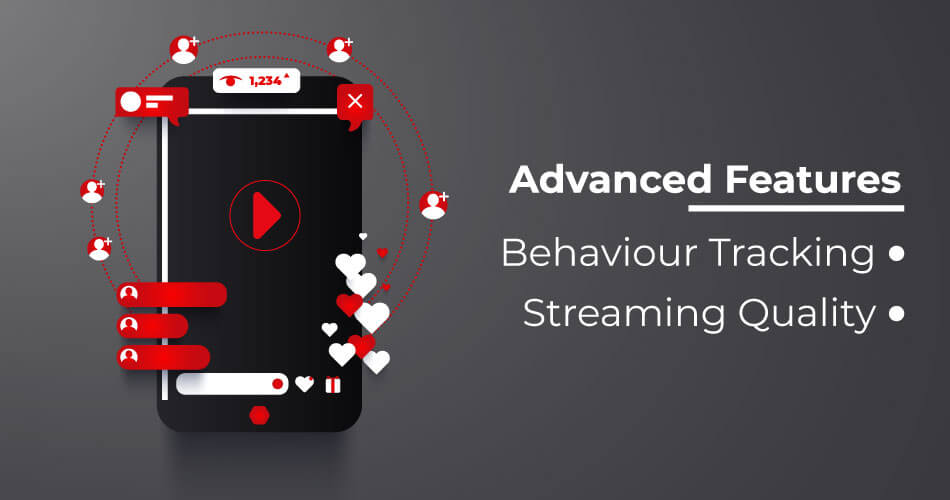 Behavior Tracking: Using AI and ML algorithms, the admin should be able to study the content that interests the user. The app should push recommendations based on the type of shows streamed. This helps in building customer loyalty towards the brand. 

Streaming Quality: The app should be able to suggest the quality of the video depending on the network connection of a device.
Recommended Technology Stack/ Development Tools 
With robust technology that can scale itself to support an increasing number of users, the app should also have a very strong database to support all the content and user information that will be stored within it. The database will form the very spine of your application!
Here is a list for you to consider: 
Frontend: JavaScript, TypeScript, HTML5, CSS3, React, Angular, Vue.js, Redux.

Backend: PHP, Python, Go, Django, Node.js, Express, Laravel.

Database: MongoDB, Cassandra, PostgreSQL

Mobile: Swift (iOS), Java, Kotlin (Android), React Native (CrossPlatform)

API Management:  Rest Api, tripe, EC2, S3

DevOps: AWS, Azure, GCP (Google Cloud Platform), etc.

Push Notifications: Twilio, Push.io

Payments: PayPal, Stripe, PayPal

Cloud Environment: Amazon AWS

Real-time Analytics: Hadoop, Apache Spark, BigData, Apache Flink, Cisco, IBM
Development Cost and Working Hours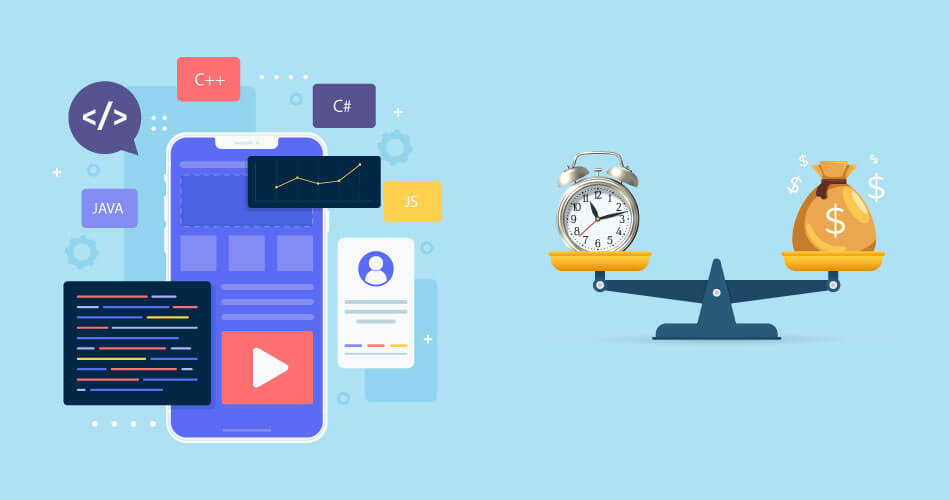 The development cost and timeline of the project are majorly dependent on whether you want to develop an MVP (Minimum viable product) or opt for a full-fledged development. In the MVP mode, you can create the basic and most important features and release the product in the market. Based on customer feedback, you can then modify or even drop add-on features. This helps save a lot of development time and effort and lowers the risk of creating an app with features that the target audience may not welcome. 
In case of a full-fledged development, you create the entire app with all the decided features and then release it in the market. 
Now, for an MVP product, here is a breakdown of the features and time required to develop the same:
| Features | Timeline |
| --- | --- |
| UI/UX design | 180-190 hours |
| User Login | 60 hours |
| User Profile | 80 hours |
| Content Search | 120-150 hours |
| Payment Gateway | 80-90 hours |
| Multi Language Support | 80 hours |
| Admin Panel | 2500 hours |
| Text chat | 209 hours |
| Notifications | 36 hours hours |
Keeping all this in mind, the app development charge around the US may range from $ 140 - $ 260 per hour of work. Additionally, if you want to focus on developing an MVP (Minimum Viable Product), the cost may go up to $10,000-$25,000 depending upon the features required. 
Final Thoughts
Video streaming apps are quite popular across the user market. Easy access to the internet, mobile devices, and engaging content has fueled the current trend where almost everybody has access to such apps. This comprehensive guide will give you a kickstart to developing an app that can stand apart from the competition in the market. Biz4Group is your trusted development partner with sizeable experience in app development market. Wish to have your own video streaming app developed? Get in touch with our experts to book a free consultation session today!!