Gartner Listed the Top 5 AI Chatbot Development Platforms in 2023
In the early days, companies used calls or emails to answer customer queries. Such approaches are outdated now and have changed a lot.
The modern world focuses on modern solutions and "Artificial Intelligence Chatbots" have secured the front seat. With the recent demand by different industries, many companies have started to build AI conversational platforms.
Many well-known brands have built chatbot development platforms (we'll get to them shortly) that are easy to build upon. These companies have evaluated the market and also found that the market will be swift in upcoming years too.
In fact, the chatbot market will grow with a CAGR of 23% from 2023 to 2030. The reason for moving towards the chatbot is their ease to use and accessibility and their ability to answer every question.
So, let's explore the benefits of chatbot development platforms before moving to the top 5 AI Conversational Platforms.
Chatbots ease down everything!
Integrating a conversational bot has become an inevitable aspect of the business. Many businesses are already solving queries in minutes & facilitating a personalized experience for their user. With AI-powered chatbots, the wait time is microseconds, and every question is assessed before answering. Also, every chat is encrypted and safe.
Here are some of the benefits of using conversational chatbots for business:
Improved customer service
More leads and better sales conversions
Enhanced brand image
Decreased customer churn rates
Conversational marketing
Chatbots – Curated for you!
The chatbots offer diversified benefits for businesses and quickly respond to every query raised by the users. The AI Chatbot development platforms we've listed here use natural language processing to interact in a human way and machine learning makes it smarter after every query asked.
Also, some platforms provide low-code functionality, and drag and drop features which make their development easy and simple; whereas others require chatbot development support but are highly customizable for business use. Of course, you'll need to consult an AI development company to build your chatbot on such platforms.
Here is the list of the top 5 chatbots platforms from Gartner's Magic Quadrant:
[24]7.ai
Aisera
Lex by Amazon Web Services
Amelia
Avaamo
Let's have a sneak peek into all of these.
1. [24]7.ai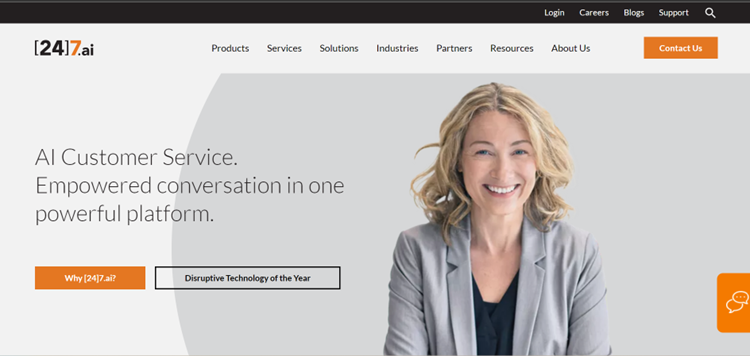 Best for customer service/contact centers
If you are looking for a suite of applications for managing automated and human-centric conversations - [24]7.ai is the right pick for your business. Here are some USPs of [24]7.ai that make it the best chatbot development platform:
Experience in contact center environment - The strength of the company shows that they have extensive experience in the contact center environment.

Handle offshore and onshore deployment - Their conversational self-service deployment has put them in a large contact center and handle complex on and offshore deployments.

Managed services on your behalf - [24]7.ai offers managed services where the company manages services on behalf of the business.

Keep track of your customer behavior - Also, their conversational chatbot enables companies to gain insight from the customers to understand their behavior.

Natural language processor - The conversational AI platform by [24]7.ai works on the natural language processor for an effective conversation.
2. Aisera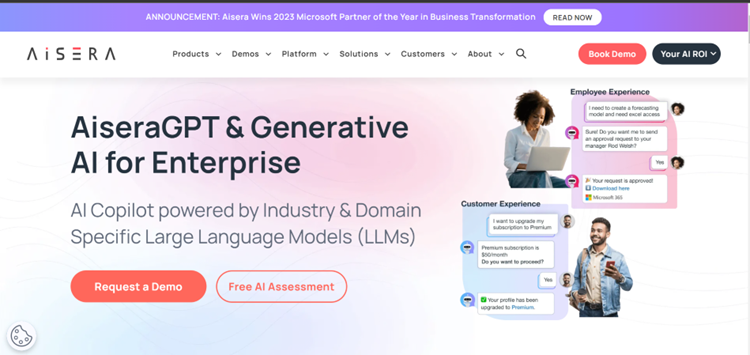 A new way to greet customers
Chatbot development platforms are reshaping businesses, and Aisera is one of them. It is a cloud-based artificial intelligence platform that enables organizations to automate and improve customer service. It leverages NLP and ML to respond to the user in an engaging way.
Apart from it, here are a few more features that enable it to withstand in the market:
Gain Analytics & Customization - Custom AI applications are easy to build with Aisera AI Platform and with the help of analytics, companies can improve customer satisfaction and loyalty.

Understand from user interaction - Aisera facilitates insights into customer interaction to understand the behavior of their customers.

Automate tasks hassle-free - The Aisera chatbots enable companies to automate customer service tasks with the help of frequently asked questions, product support, and scheduling of appointments.
Aisera got a 4.4-star rating on Gartner Peer Insights and caters to the industries like software, IT service, Banking, Healthcare & Biotech, and others too.
3. Amazon Lex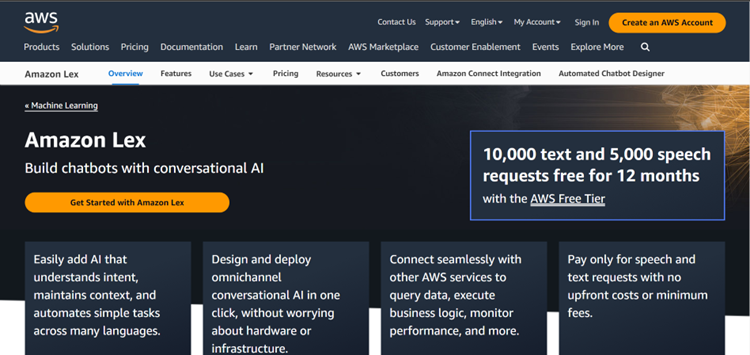 Best enterprise AI chatbot platform
Amazon Lex by Amazon Web Service may be the third one on the list, but its capability brings great benefits to enterprises. The best part is that AWS also offers an AI development platform that makes it easier for enterprises to integrate their chatbots into their workflow. It is a completely managed AI service with an advanced natural language model in the applications. The key features of the Amazon Lex include:
Don't deploy code for everything - It brings natural conversations with the help of high-quality speech recognition and natural language understanding. The context manages so effectively without deploying any custom code into it.

Multiple functions under one roof - Another feature that keeps it different from all other platforms is builder productivity through visual conversation builder, powerful lifecycle management capabilities, one-click deployment to multiple platforms, and streaming conversations.

Unlimited integration - Unlimited integration with apps and modules in the Amazon Web Services ecosystem including Amazon Kendra, Amazon Polly, and AWS Lambda.

With careful consideration and understanding of Lex, let's have a clear view from the reviews which enable users to know whether using Amazon Lex as a conversational AI platform is worth it or not. So, the answer is yes! It is powerful and easy to use & the automation brings a personalized and distinctive experience to the user.
It also got a 4.4-star rating on Gartner Peer Insights. Many industries are using it such as education, consumer goods, finance, banking, and many more. However, the cost to build an enterprise chatbot with this will be high.
4. Amelia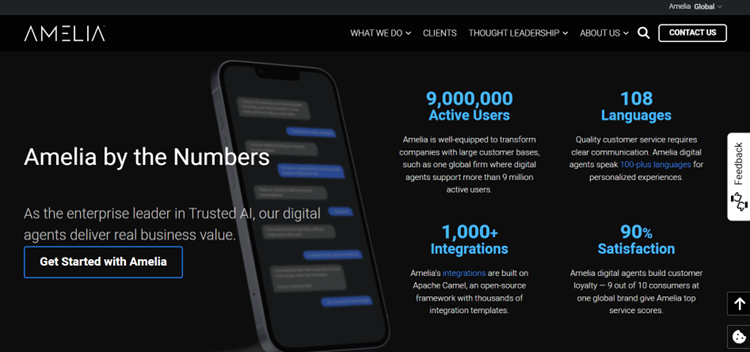 Make by yourself with low code builder
Automate your operational world (marketing, sales, customer service) with the help of Amelia. This conversational AI platform has multiple benefits that cater to every business and its needs. Even if you have a non-tech background, the low code builder will help you develop chatbot applications easily.
Here are a few more, you should be known:
Pre-trained models for easy development – AI Models are available to easily build your chatbot application. Get started quickly and easily with Amelia.

Secure with encryption - A secure interface brings encryption at every point that keeps the conversation confidential.

Support multi-channels - Amelia is multi-channel supportive which allows businesses to build applications on mobile and the web.
The 4.2-star rating from Gartner Peer Insights shows and claims it is a worthwhile AI chatbot development platform. Till now, it has catered to multiple industries like banking, manufacturing, healthcare and biotech, telecommunication, and many more.
5. Avaamo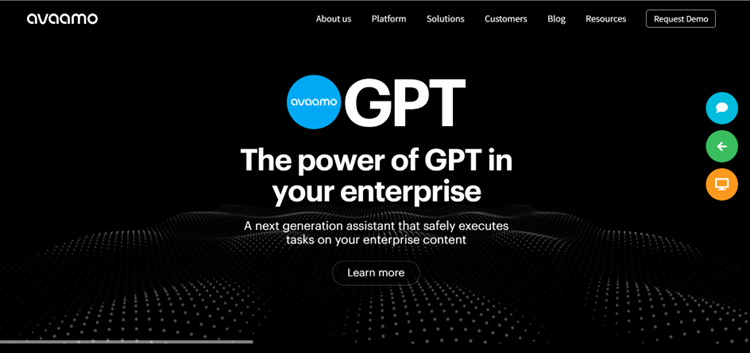 Personalize every chat to bring a swift experience
Conversational AI has become a necessity for businesses around the world and Avaamo fulfils every single requirement with a swift. Companies are using this to drive sales, enhance brand image, and bring a personalized experience to the user. The features are like other tools, but their potential is much higher.
Gartner Peer Insights rated 4.5 stars to this AI conversational platform, and it serves finance, healthcare, insurance, transportation, and many more industries.
Moreover, you can automate tasks and facilitate quick and accurate responses to customer queries. It will help in bringing a great and personalized customer experience to the final user.

Wrap Up
These are the top 5 chatbot development platforms that streamline and come into light after Artificial Intelligence's emergence. Companies are moving with AI conversational platforms to assist customers and please their every query instantly without any gap. There are 1300+ chatbots and virtual agents used in the world and 80% of the decision-makers already have it in their pipeline. So, this is the right time to make your own AI chatbot platform and be on the list of the leading chatbot platforms.
Well, in this journey, Biz4group is here to help you. We've been listed among the best chatbot development companies in the USA.
Our AI experts have extensive knowledge and experience in developing generative as well as conversational chatbots. So, don't wait long and take your first step now!