Develop a Successful Real Estate Mobile App for all your Needs, Here
76% of all buyers found a home on a mobile application, while 17% of all buyers found an agent the same way.
-National Association of Realtors
Mobile applications are easily accessible and have made life simpler for consumers. With our world being so advanced in digital technology, almost every business in the market is launching a mobile application to keep up with the times. A mobile application not only exposes the business to a wider audience but also helps consumers easily interact with the business and obtain information at their fingertips. It is the ultimate medium for customer engagement and conversion! 
The real estate market has stayed abreast with these changes in technology, leading to a boom in this sector. Apps have made it possible for consumers to browse to several listings, based on the features filtered, without having to physically visit the location. Additionally, brokers and property owners listed on the app can be easily contacted for additional information or booking an appointment to visit the space. 
Since the real estate industry is so dynamic in nature, an app can be a bridge for agent-buyer communication, broker task management, customer relationship management, and much more. Let's take a look at why you need to develop a real estate app from the point of view of buyers and brokers.
Advantages of a Real Estate App for Buyers, Property Owners, and Brokers
Buyers: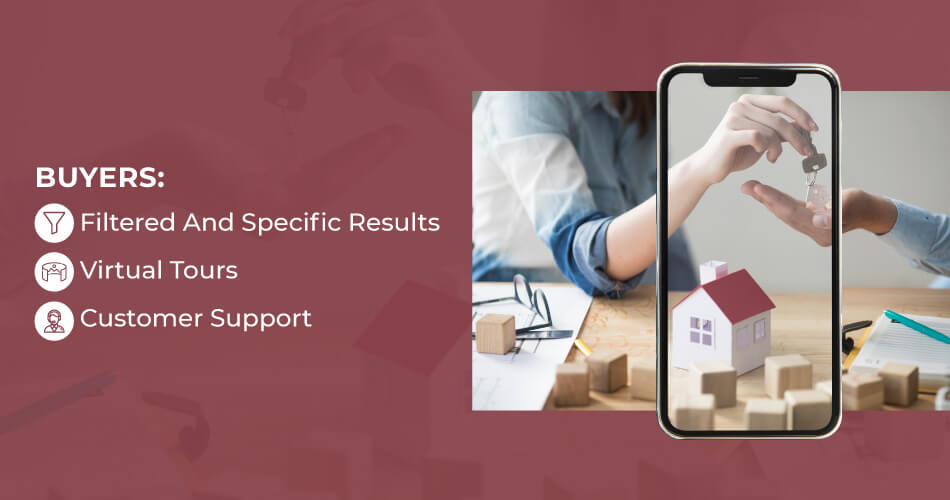 Filtered and Specific Results: Buyers are often looking for detailed information about the property. An app can help them filter key features as well as any highlights related to the property. Nearby facilities such as schools, hospitals, shopping malls, religious organizations, etc can be enlisted to give the consumers an overview of the property location advantages. 

Virtual tours: Clear photos from various angles can help consumers decide whether or not to visit the property on-site and eventually invest in the same. Virtual tours will give buyers a 360-degree narrative to understand and explore the floor plans as though they are physically on-site! This will also save their time from visiting a site that does not match their expectations.

Customer Support:A real estate app including an AI chatbot, can help in answering customer queries as and when they have a doubt regarding the property on sale, terms, and conditions of property sale, etc. Additionally, customer support increases the credibility of the company in the consumer market.
Property Owners/Brokers:
Property Exposure: Property owners or brokers can list their estates on the app and get a wider audience reach as compared to word of mouth. Brokers can also take this as an opportunity to build on their portfolio of deals.

Time-saving: Consumers will only look up for those properties that fit their requirements. They will not have to unnecessarily look at the properties that do not meet their filtering criteria, rather they'll be able to shortlist the ones that are specific to their needs. Thus, the brokers/property dealers will save time in just dealing with shortlisted options from the consumer's end.

Task and Team Management:  The app can also be used as a medium for relators to streamline their work. Such a platform can effectively support and facilitate communication between all real estate agents working in a particular agency and their designated clients. They can also manage leads throughout the property sales cycle by keeping in constant contact with their client.

Feedback:   Consumers can give feedback about the broker involved in the deal, the location surrounding the property, and other factors related to the deal. This will not only attract potential customers for other properties in the area but also earn recognition for the brand.
Top 3 Factors to Develop a Successful Real Estate App
#1 Finalize your model
At a high level, business owners can consider one out of these two models for their real estate app:
Property Buy, Sell or Rent App 
This is an online marketplace where sellers and buyers can register.

Properties for sale can be uploaded, along with pictures and other details.

Buyers can access these details and decide to either buy or rent the property accordingly.

This is an online marketplace where sellers and buyers can register.
Dedicated Real Estate Company App 
Designed for the agents of a real estate company. 

Agents can put their properties on sale, segregated under different parameters. 

Buyers can access these details and decide to either buy or rent the property accordingly.
#2 Features of the Application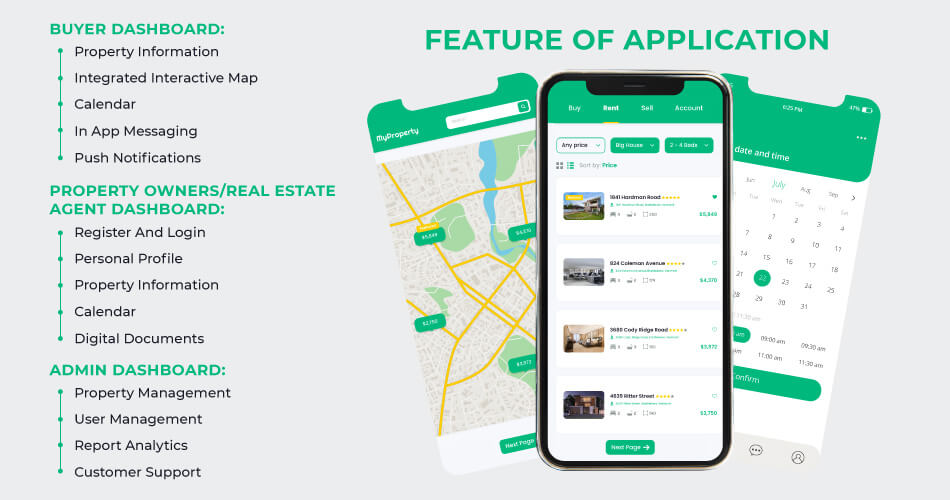 This is, hands-down, the most important part of developing the application, that can make or break your brand image in the market. Depending on the business model, invest in features catered to the specific needs of the consumer, be it the seller or broker. Here is a breakdown of the functionalities that you should look for in a real-estate app:
Buyer Dashboard:
Register and Login:

New users need to register in order to start using the app. Once registered, the users can log in to check out properties for sale. 

Personal Profile:

Users can edit/ update their profile whenever they want. 

Property information:

On clicking a particular listing, relevant information like year of construction, floor plan, furnishing, room plan, etc. should be displayed.

Search by Filters:

Buyers should be able to apply various filters to view only the properties that match their requirements. 

Integrated map:

Integrate Google maps or other map APIs into your app to help customers find properties around them. This will also give buyers access to additional information like public transport, schools, religious institutions, etc. 

Favorites:

Buyers may want to add certain properties to their favorite list and later check them out to narrow down their top choices.

Calendar:

Consumers can view/ schedule the dates to meet property agents. A calendar will help them schedule these meetings depending on the free time slot of the property owner and/or broker.

In-App Messaging:

This can be an advanced option, where the buyer and the property lister can communicate via integrated text messaging.

Call Back Button:

This will notify the seller that the buyer wants to communicate via call.

Push notifications:

To keep the customers updated about new listings, price changes, upcoming property viewings, etc.

Online payment:

This can be an advanced functionality that provides a safe and secure means for online transactions via payment gateways of choice.

Documentation Upload:

  Buyers can scan and upload all their documents for safekeeping on the app itself. This will also mean the documents are readily available, wherever an agent wants to cross verify a buyer's identity.
Property Owners/ Real Estate Agent Dashboard:
Property information: On clicking a particular listing, information about the property like its year of construction, floor plan, furnishing, room plan, etc. can be edited. Images and Videos of the property can be displayed.

Calendar: Agents can block their calendar for a meeting with an interested party. 

Digital documents: Sellers can upload documents relevant to the property like contracts, building information, etc. They can also view documents uploaded by buyers
Admin Dashboard:
Property management: To keep listings up to date, or add/edit details of new properties and remove those that are booked. 

User management: Blacklist brokers or tenants in case of issues like supplying fraudulent/misleading information or violating the terms and conditions of the app.

Report and Analytics: To keep track of sales on a timely basis. 

Customer support: To cater to the buyers' and sellers' questions and queries 24/7.
#3 Robust Technology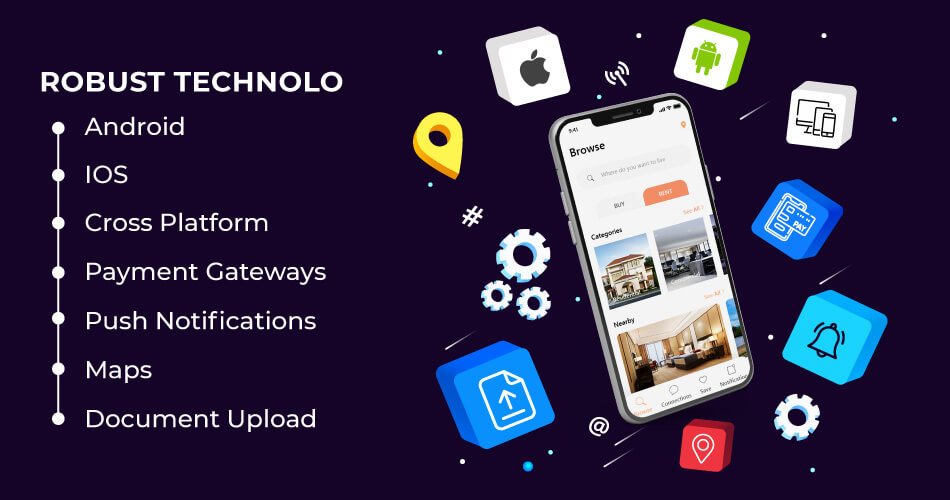 The technology stack you choose will determine how robust your app is and how well it scales when numbers and volume start to flow in. Here are some options for you to consider:
Android: Java, Kotlin

iOS: Swift, Objective C

Cross-Platform: React Native, Angular

Payment gateways: Stripe, PayPal

Push Notifications: Firebase, AWS Simple notification service

Maps: Google Map API

Document Upload and Digital Signature: Adobe Sign
Apart from using scalable technologies to build your application, you need to focus on the database as a separate entity all together! A real estate app should include a robust database since it forms the backbone of the application. Since there will be hundreds of listings for properties on sale, potential buyers should be able to access the property of choice by applying filters. MongoDB, PostgreSQL, and MySQL are excellent options to consider while building a robust backend for your application.
Final Thoughts
So there you have it! Our top 3 factors to consider while building a real estate app that will set you apart from the competition in the market. This is the right time to build such an application since everyone is stuck indoors due to the pandemic. The application will serve as a bridge between buyers and sellers, to get a holistic view of the property, limit the number of visits on site and accelerate the closing of deals faster!
Looking for a trusted agency to help you create a high-performing and secure business app? Biz4Group, with its team of seasoned developers, is your ideal choice for all your development needs. Get in touch with our experts to book a free consultation session today!